The 2023 League of Legends World Championship is just around the corner! Learn more about the competition and how to purchase Worlds 2023 merch.
What is the World Championship?
The League of Legends World Championship, also known as Worlds, is the pinnacle of LoL Esports competition in which the top teams from nine regions compete for the world champion title. Held after the culmination of the regular season in a different host region each year, qualified teams from professional leagues around the world participate in the tournament. This year, South Korea will play host to the tournament.
The Worlds Qualifying Series will be a best-of-5 match between Team BDS (the 4th seed from the LEC) and Golden Guardians (the 4th seed from the LCS) on October 9 in LoL Park in Seoul. The WQS winner, along with 21 other teams, will compete at Worlds, with 8 of these teams beginning at the Play-In Stage. These seed allocations were determined by each region's previous international performance.
THE GRIND. THE GLORY.
This year's Worlds theme is "THE GRIND. THE GLORY." When the confetti falls and the trophy rises, we're only witnessing the glory. But in reality: There's no glory without the grind. Behind every World Championship title is the relentless dedication to the craft, the endless hard work, and the long, arduous journey that got them there.
This theme represents that bold dichotomy, where we embrace the duality of the journey of the pros and revel in both as part of the pursuit: the dark, continuous grind AND the beacon of hope and glory that awaits at the World Final.
When is Worlds happening?
Worlds begins with the Play-In Stage on October 10 and will conclude with Finals on November 19.
Play-In Stage (All matches begin at 12 a.m. PST / 4 p.m. KST unless otherwise noted)
Tuesday, October 10

Wednesday, October 11

Thursday, October 12

Friday, October 13

Saturday, October 14

Sunday, October 15 - 8 p.m. PST (Oct. 14) / 12 p.m. KST
Swiss Stage (All matches begin at 12 a.m. PST / 4 p.m. KST unless otherwise noted)
Thursday, October 19 - 10 p.m. PST (Oct. 18) / 2 p.m. KST

Friday, October 20 - 10 p.m. PST (Oct. 19) / 2 p.m. KST

Saturday, October 21

Sunday, October 22

Monday, October 23

Thursday, October 26

Friday, October 27

Saturday, October 28

Sunday, October 29 - 9 p.m. PST (Oct. 28) / 1 p.m. KST
Knockout Stage (All matches begin at 1 a.m. PST / 5 p.m. KST unless otherwise noted)
Thursday, November 2

Friday, November 3

Saturday, November 4

Sunday, November 5

Saturday, November 11

Sunday, November 12

(Finals) Sunday, November 19
What's the format?
Worlds' new format will feature 22 teams in three stages of competition: the Play-In Stage, the Swiss Stage, and the Knockout Stage (Quarterfinals, Semifinals, and Finals). A detailed breakdown of each stage is below.
Where will Worlds take place?
The Play-In Stage will be October 10-15 at LoL Park in Seoul.
The Swiss Stage will be October 19-23 and October 26-29 at KBS Arena in Seoul.
Knockouts consist of Quarterfinals, Semifinals, and Finals.
Quarterfinals will be November 2-5 and Semifinals will be November 11-12, both taking place in Sajik Indoor Gymnasium in Busan.

The World Final will be on November 19 and will be played at the Gocheok Sky Dome in Seoul, the largest indoor venue in the country and the home of Seoul-based baseball team, Kiwoom Heroes.
If you're joining us in person during the Swiss Stage or Knockout Stage, please check out the event policies here.
Which teams are competing?
A region's seeds are based on past international performance and regional performance. Consistently strong regions send some or all of their seeds straight to the Swiss Stage, whereas other regions receive fewer seeds and/or start in the Play-In Stage.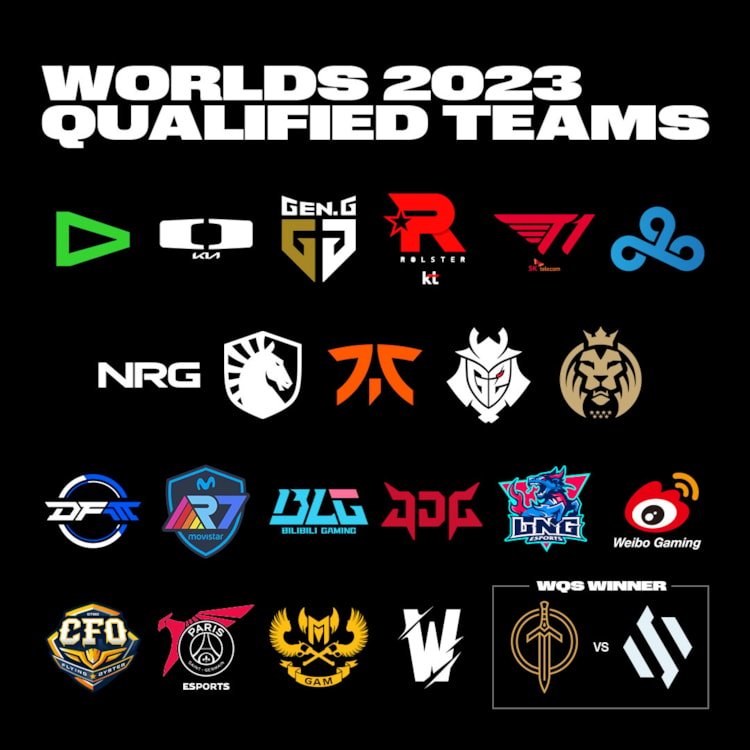 This year, the 22 teams competing are:
CHINA – LPL
1st Seed: JDG Intel Esports Club (JDG)
2nd Seed: Bilibili Gaming Pingan Bank (BLG)
3rd Seed: LNG Esports (LNG)
4th Seed: Weibo Gaming Faw Audi (WBG)
KOREA – LCK
1st Seed: Gen.G (GEN)
2nd Seed: T1 (T1)
3rd Seed: KT Rolster (KT)
4th Seed: Dplus KIA (DK)
EUROPE – LEC
1st Seed: G2 Esports (G2)
2nd Seed: Fnatic (FNC)
3rd Seed: MAD Lions (MAD)
NORTH AMERICA – LCS
1st Seed: NRG (NRG)
2nd Seed: Cloud9 (C9)
3rd Seed: Team Liquid Honda (TL)
SOUTHEAST ASIA – PCS
1st Seed: PSG.Talon (PSG)
2nd Seed: CTBC Flying Oyster (CFO)
VIETNAM – VCS
1st Seed: GAM Esports (GAM)
2nd Seed: Team Whales (TW)
BRAZIL – CBLOL
LOUD (LLL)
JAPAN – LJL
DetonatioN FocusMe (DFM)
LATIN AMERICA – LLA
Movistar R7 (R7)
WORLDS QUALIFYING SERIES WINNER
To be determined on October 9 between LCS's Golden Guardians (GG) and the LEC's Team BDS (BDS).
Worlds Stages Breakdown
Play-In Stage: Oct. 10-15
Play-Ins will kick the tournament off with the 1st and 2nd seeds from VCS & PCS, the 1st seed from LLA, CBLOL, and LJL and the winner of the Worlds Qualifying Series between the LCS and LEC 4th seeds. These 8 teams have been drawn into two, best-of-three, double elimination brackets. The top placing team from each bracket will face off against the second place team from the other bracket in a final set of best-of-five matches. The winners of each of these matches will take their place in the Swiss Stage.
The first 10 matches are Bo3 and the final two are Bo5.
Swiss Stage: Oct. 19-23; Oct. 26-29
The two qualified Play-In Stage teams will join the top 3 seeded teams from LEC and LCS as well as the top 4 seeded teams from the LCK and LPL. These 16 teams will be split into four draw pools - 1 Seeds, 2 Seeds, 3 Seeds, and 4 Seeds + Play-In Qualifiers. They will be drawn into an initial set of 8 best-of-one matches based on their seeding - Pool 1 teams will play Pool 4 teams and Pool 2 teams will play Pool 3 teams. Additionally, no team will play a team from their own region in the first round. Following the first round of play, there will be another draw for the second round to pair teams with the same record against one another - this time with no further draw restrictions. The tournament will repeat this process for 3 more rounds of play, pitting teams with even-records against each other until they reach 3 wins to advance, or 3 losses to be eliminated from competition.
In total, 8 teams will move on to Knockouts. While the initial rounds are best-of-one, all advancement and elimination matches will be best-of-three. Throughout the Swiss Stage, side selection will be determined by initial draw pool - the higher pool will receive side selection. In matches between teams from the same draw pool, side selection will be determined by coinflip.
Knockout Stage: Nov. 2-5 (Quarterfinals); Nov. 11-12 (Semifinals); Nov. 19 (Finals)
Eight teams move on to the Knockout Stage, which encompasses Quarterfinals, Semifinals, and Finals. For this stage, the tournament transitions to a single-elimination bracket with all matches played in a best-of-five format. Quarterfinal matchups will be decided by an on-stage draw following the final day of the Swiss Stage. In this draw, teams that advanced with a 3-0 record will be matched against teams that advanced with a 3-2 record. The remaining teams will then be matched against one another.
The team that comes out on top will become the 2023 World Champions.
Worlds 2023 Co-Streaming
We're excited to expand virtual co-streaming for Worlds 2023! Over the course of the tournament, we expect more than 50 co-streamers to participate, representing the regions and languages of our community around the globe.
The Worlds co-streaming program will be an invite-only program, and the pre-approved streamers and content creators will give fans the chance to follow Worlds with their favorite streamers right alongside the main broadcast.
Approved co-streamers will be on rotation throughout the event and with the selection process being driven by Riot's local teams, regions will announce the selected co-streamers via official LoL Esports channels.
In addition, all professional teams that have qualified for Worlds are also invited to leverage their existing content creators to co-stream virtually throughout the entire tournament. For all other content creators, the standard Content Creator Guidelines remain in effect.
How do I watch?
You can catch every match on lolesports.com, or tune into one of the official co-streams!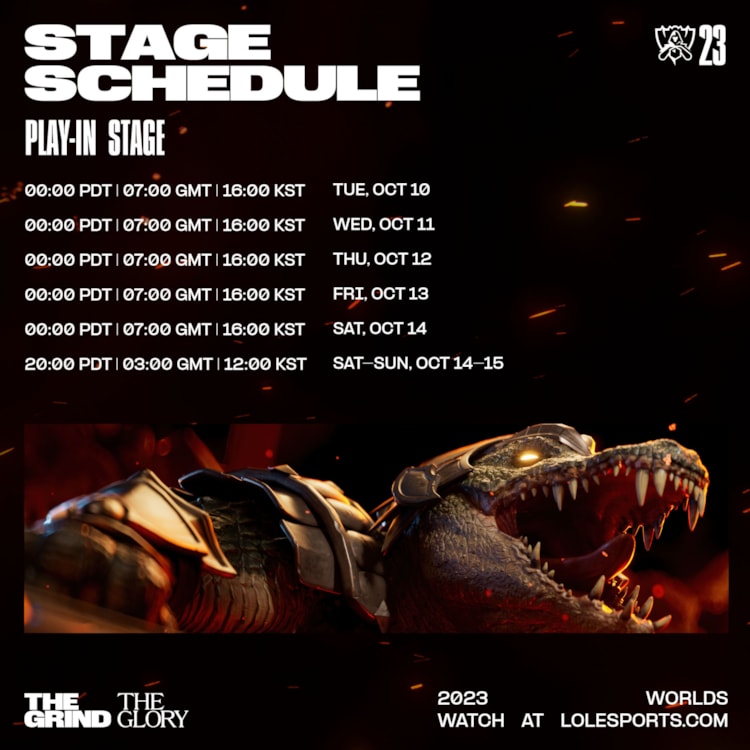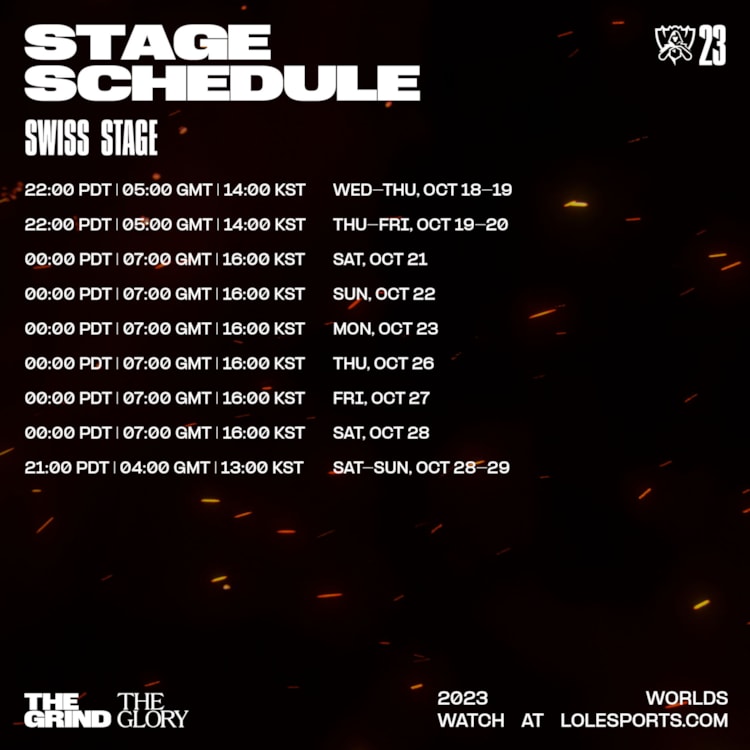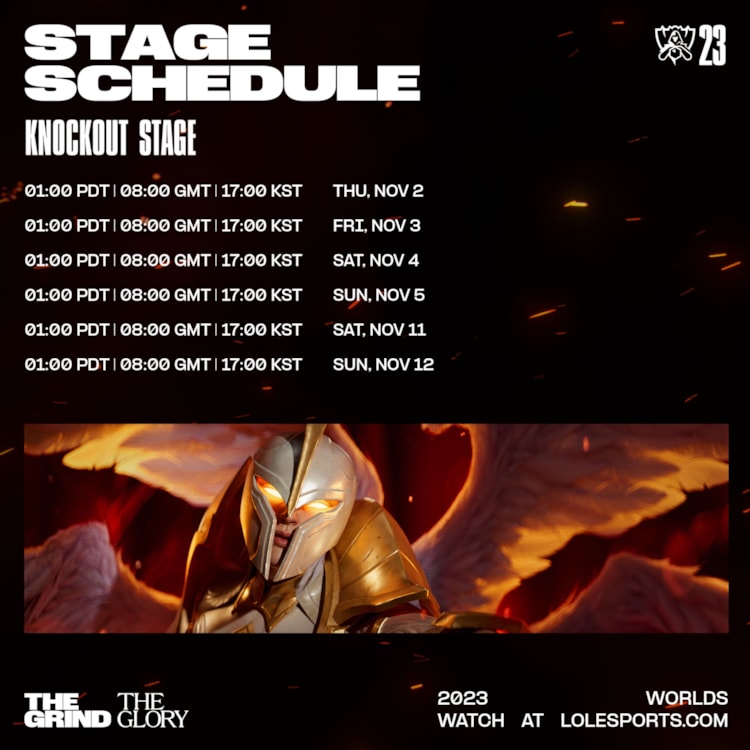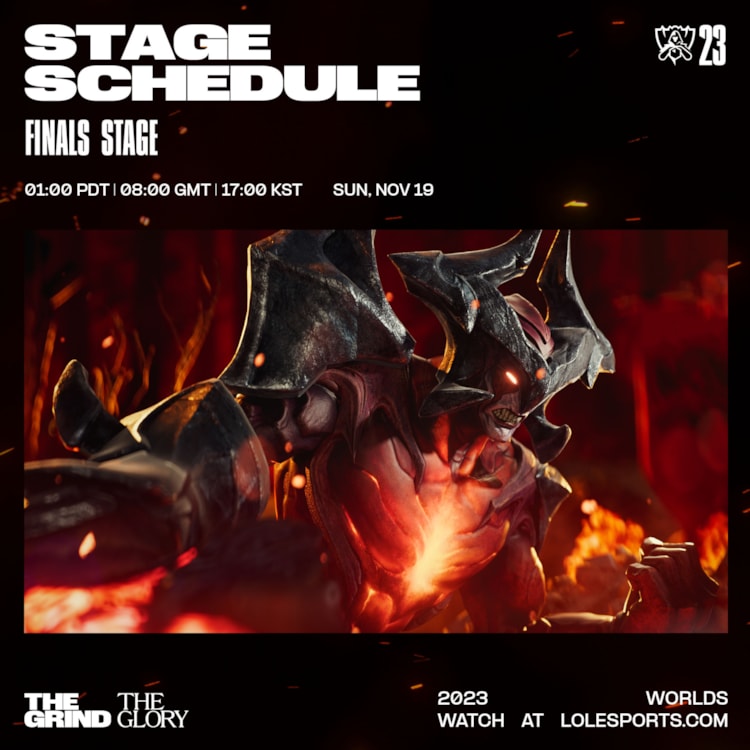 Worlds 2023 Merchandise
Celebrate the peak of international League of Legends competition with the Worlds 2023 Merch Collection! A drop for players and fans across the globe who honor the grind and hunt for the glory, the collection features a variety of figures, apparel, and accessories. The Worlds 2023 Collection will be available online beginning October 3.