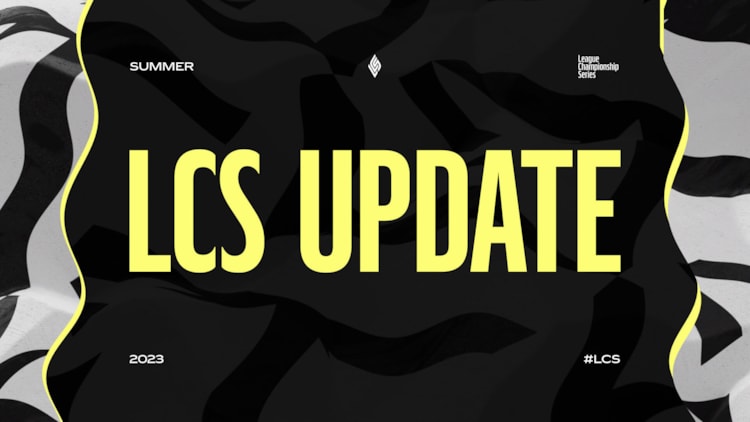 May 30, 2023
By Naz Aletaha
There's been a lot of discussion over the past few days about the North American Challenger League (NACL) and the LCS player walkout. I know many of you have questions about where Riot stands, so I'd like to share some thoughts as well as a scheduling decision we've made with the goal of getting to a positive outcome.
First and foremost, we support players. We also support teams. And we believe more than ever in the LCS
The LCS has always been a flagship league for LoL Esports and we care deeply about it. We know that everyone in the ecosystem, from the players to the teams to Riot to everyone behind the scenes making each week possible and so many others, all share the same goals for the LCS. We need an LCS that is thrilling to watch and showcases the highest levels of League of Legends play. We need a league that represents the pinnacle of North American competition, one that serves as an aspirational goal for competitive players who want to build a career playing League of Legends with a clear path to the LCS. We need an esports league that will one day bring the Summoner's Cup home to North America. And we need a sustainable, economically viable, predictable league that supports a thriving ecosystem around it, for the players, teams, analysts, coaches, support staff, casters, broadcast crews, and more.
There's been a lot of talk about the current state of esports, including esports' long-term future. Over the last few months we've been more focused than ever on meeting the teams' needs for economic sustainability. But we also know that sustainability can't come at the expense of having a robust, thriving development pipeline to bring fresh, homegrown, new blood into the league. We're excited by what we see in the amateur and collegiate scenes and know we need to do more to nurture those communities and bridge the gap between them and the professional scene.
We also believe in the Tier 2 development system
We also know that our past efforts with LCS Academy haven't produced consistent results in terms of promotion to LCS. We believe that Tier 2 can be a viable, exciting league in its own right and that the next great world-class players will start their journey here.
Riot has successfully architected a Tier 2 ecosystem in other major regions - Europe, China, and Korea - and we want to do the same for North America. It will take some shifts and trade-offs to get there, so to help the North America scene through this transition, we've decided to give our NACL partner, Rally Cry, an additional $300,000 in order to jump-start the 2023 NACL season next week. This funding is in addition to the revenue share to the NACL teams we announced last week.
Transitioning from the ineffective Academy system to the new NACL model will be helped by this funding. We'll also be working with LCS and NACL teams, along with the LCSPA, to increase upward mobility opportunities for players to the LCS, which is the ultimate goal of a Tier 2 developmental league.
To make sure we live up to the quality we've promised to fans, we're delaying the LCS season for two weeks
All that said, a top priority for us always is the fans. While last week we immediately put in place contingency plans to begin the LCS season on Thursday, we ultimately decided that it would not hold true to our values that Riot's esports offers our players and fans a showcase for the best competitive League of Legends. Nothing but putting the best players in North America on the stage at Riot Games Arena is acceptable. So we informed LCSPA leadership today that we will delay the LCS season for the next two weeks.
Hopefully, this two-week window will give us time for productive dialogue between the LSCPA, teams, and the league and then resume LCS competition this summer. The LCS will not be penalizing the teams for not fielding their rosters during this two-week period to allow everyone space to focus on constructive dialogue. We are doing our best to ensure LCS employees, contractors, and others supporting the LCS are not negatively impacted by the delay.
Delaying beyond the two-week window would make it nearly impossible to run a legitimate competition, and in that case, we would be prepared to cancel the entire LCS summer season. Carrying this forward, if the LCS summer season is canceled, this will also eliminate LCS teams qualifying for 2023 Worlds. I want to be clear: That is not an outcome we'd want, but it's unfortunately the reality of ensuring we run a fair, competitive global system.
The LCSPA has made several requests – here's how we've addressed them
I also want to address the five demands from the LCSPA, with the responses that we also provided the LCSPA today:
Institute VALORANT style promotion and relegation between LCS and NACL
Expanding the league in order to implement a VALORANT-style visitor slot system would run counter to our existing partnership model with the 10 LCS teams who paid ~$10M per slot to compete in the league. It would dilute LCS teams' equity and put considerable downward pressure on the amount of revenue (our "League Revenue Pool") that we share with the teams. More teams in the pool would dilute the revenues that we share 50% with our teams under the partnership model. Given the challenging macroeconomic climate, expanding the league is not a good idea at this time.
Riot guarantees LCS minimum contracts for the following year for five players who win NACL Summer Finals
Guaranteed LCS contracts for winners aren't a necessary component of a healthy developmental league. LCS teams are in the best position to decide who should get a shot. We will continue to discuss initiatives to connect LCS to NACL players like we have in place with Scouting Grounds. Players should rise to the LCS based on merit, potential, and team fit rather than an artificially forced mechanism, and our focus will be on finding ways to increase the flexibility and mobility of that movement rather than forcing it.
Institute a 3/5 continuity rule to provide players on released NACL rosters first priority in maintaining their slots in the upcoming NACL season if a majority continue to compete together.
Teams provide greater continuity and structure, and therefore we will continue with our policy of slot ownership residing with organizations rather than players.
Riot commit to a revenue pool for player salaries of $300,000 per NACL team, per year.
This ask is for multiple millions in subsidies for the NACL. That simply isn't sustainable – and to be brutally honest, it shouldn't be necessary. We have other Tier 2 leagues around the world which thrive on their own, and we believe the NACL can get to that place too.

What we will do is help the North American scene through this transition. So, as I mentioned above, we will be investing in a bridge period by providing a special, one-time payment of $300,000 to the NACL's Tournament Operator (Rally Cry) to support NACL teams during the transition to the new structure.
Allow LCS orgs to partner with affiliates for cost-sharing.
We've seen examples of partnerships between pro teams and Tier 2 teams across the globe result in greater upward mobility of pros and more sustainable Tier 2 ecosystems. That is why we already, and will continue to, allow affiliate relationships to exist between teams in LCS and NACL (for example, Golden Guardians & Area of Effect).
Moving forward together
We remain hopeful that the time window now ahead of us will allow us to put in place a condensed yet competitive LCS summer season with the league's best players and teams. Thanks for taking time to read this, and look for more information from me and/or other Riot leaders in the days and weeks ahead.
Naz Aletaha is the Global Head of LoL Esports